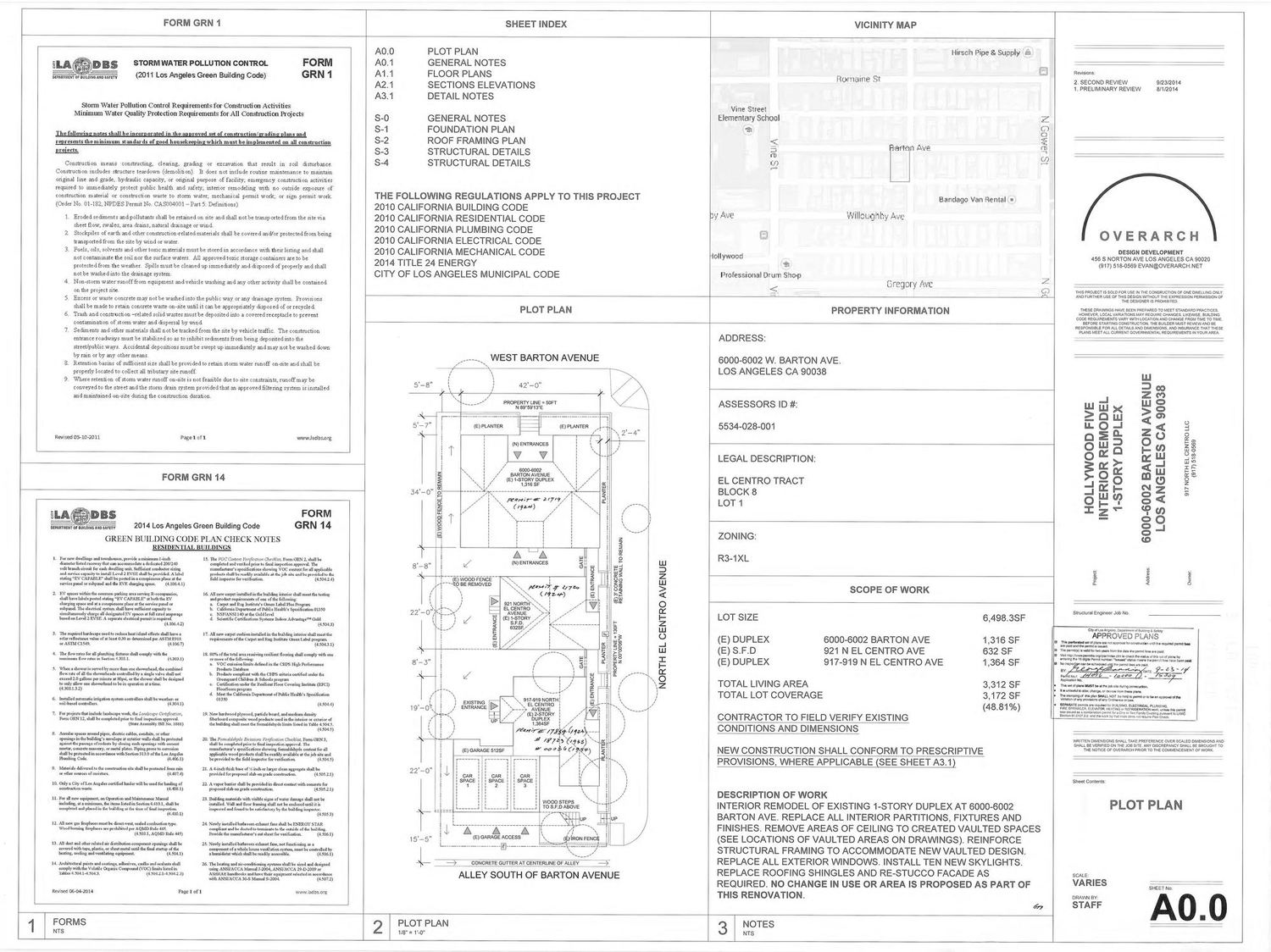 BARTON AVENUE PLOT PLAN
Our first set approved in California. Many thanks to the generous and talented Tanya Paz!
 
BARTON AVENUE CONSTRUCTION PLAN
This is the first phase of our renovation project in Hollywood. 6000-6002 Barton Avenue had been illegally combined into one unit before we purchased the property. It is technically a duplex. This unexpected feature became a great opportunity for us to increase unit count. What we bought as four units turned out to be five! Took some convincing the folks at DBS, though in the end we prevailed. Here's to pleasant surprises!
BARTON AVENUE ELEVATIONS AND SECTIONS
The architectural language of our property in Hollywood is English country. High pitched roofs, casement windows and shutters, manicured privet. We saw this style as an opportunity to create height in our compact living areas. Accordingly, the dropped ceiling is removed at each corner space in 6000-6002 Barton Avenue. Skylights and over-sized window openings give each room a cathedral feel, focusing attention outwards towards the always shining sun.
BARTON AVENUE DETAILS
We had a challenge in convincing our friends at Metro plan check that this project would obey all the conventions of ordinary Type V construction. Our structural engineer assured us that anything beyond that scope he would cover. Just for good measure we threw in some details of architectural resolution for our vaulted ceiling connections. Can't wait to see these finished!
BARTON AVENUE NORTH ELEVATION
The look we're imagining is something between modern barn and urban farmhouse. After above, before below. White roof or grey roof?
HOLLYWOOD FIVE LANDSCAPE SKETCH
A new idea for the outdoor space at our bungalows. The goal is to give each of the three buildings its own piece of the yard. Garden walls will be low enough to make the space outside feel open though private. Look forward to help from the pros!
HOLLYWOOD FIVE GATE DESIGN
Gates are an important part of reorganizing this property. When properly configured, we'll be able to effectively remove trash to Barton Avenue, eliminate the need for keys to our houses, and help define the perimeter of a five-unit complex. Anyone know a decent welder?
BARTON AVENUE KITCHEN ELEVATION
Seeking inspiration in Hugh Newell Jacobsen. Think white!
EL CENTRO AVENUE SINGLE FAMILY DWELLING
Second in line. This is the two-bedroom standalone bungalow at the center of our property. We tried Plan Check at Van Nuys this go around. Always takes longer getting to the Valley!
EL CENTRO AVENUE PLANS
Making two bedrooms from one. As we found it, this house had two bedrooms. The second wasn't planned as a bedroom, but was being used as such. By shifting the location of the rear door to the kitchen, and removing the en-suite condition of the bathroom at the first bedroom, we have a usable two bedroom house.
PATTERSON BROOK ROAD DEMOLITION PLAN - BEFORE
There was so much wrong with the layout of the house as we found it, drawing the plan was kind of a shock. A good example is the fact that the boiler was sited in the middle of the kitchen, directly in front of a large window. The wall around this equipment enclosure meant only the boiler enjoyed a view! While we found rooms to be in the right places, room dimensions and circulation in general needed fixing. Another example. The laundry room was just narrow enough not to be able to fit a washer and dryer side-by-side. Accordingly, they took up most of the room and blocked access to a hot water heater. Easy fix!
PATTERSON BROOK ROAD CONSTRUCTION PLAN - AFTER
Our first move in fixing this plan was to create an opening between the living room and the kitchen. This is a conventional modern arrangement. By sealing the wall between the living room and rear stair, we further prevented a path through the middle of the seating area. Paths like these always split a room into two difficult halves. We also made the kitchen into a long, generous galley, eliminating wasted space and creating a line of storage and equipment closets at the center of the house. These naturally should be kept away from windows. By expanding the downstairs powder room into a full bath with a glass shower enclosure, we made a cold sitting room into a functional stopping off point for return visits from the Tuxedo Club.
PATTERSON BROOK ROAD ELECTRICAL PLAN
What is an electrical plan? This is the document that shows light fixture locations, switches, outlets, and other wired devices. In some ways, it is the most illustrative diagram of how a house is used in the drawing set. By tracing the paths of switches to fixtures, we can understand how the spaces are moved through. In this project, the electrician started completely from scratch. We buried an overhead power line running from the road to the house, changed the location of the main electrical panel, and rewired everything. Light fixtures can be one of the most expensive features of a renovation budget, but undoubtedly also the most beautiful and most fun.
PATTERSON BROOK ROAD KITCHEN ELEVATIONS
This kitchen is enormous. Or at least we think it is. Living in the city we're accustomed to galley kitchens, just never this long. A widened laundry room comfortably fits washer and dryer in their natural orientations. Two sinks are arranged in front of windows on the west elevation, bringing large amounts of light over glossy marble counters. Ample room is provided on this side of the room for hanging racks and a bar. On the opposite wall, a Burgundian oven with a custom vent hood marks the center of the line. Glass fronted wall cabinets and solid faced cabinets above are finished in black. Gloss white drawers and folding cabinets occupy the storage areas below.
PATTERSON BROOK ROAD SECOND LEVEL DEMOLITION PLAN - BEFORE
Upstairs, many of the same issues existed about the layout we encountered below. One was the size of the two bedrooms on the east side of the plan, both generous but poorly equipped with half-height closets under the eaves of the house. Another problem was the original garage furnace chimney, which had long since been compromised by moisture at its intersection with the roof. The hall closet was literally black with mold and mildew, and portions of the wall were disintegrating during our home inspection period.
PATTERSON BROOK ROAD SECOND LEVEL CONSTRUCTION PLAN - AFTER
Our goal for this house was to fit in as many well-fed guests as we could every weekend. Accordingly, we treated the second floor of our garage as a hotel, with compact sleeping areas and efficient circulation. Often we worry that people will think our bedrooms are too small. Then we remember that they're (often) only in them to sleep.
By removing the original chimney from the closet area at the center of the second level, we gained enough area to create a new room, which functions as the shared second bathroom for our guests. This space received a new window - the only change to the building appearance submitted to the Board of Architectural Review. Our most generous feature is an en-suite bath for the master bedroom. And the longest tubs available from Kohler.
PATTERSON BROOK ROAD MASTER BATH
Why do we draw sections? Because they tell us what we can't learn from plans. In this case, the eave of the house falls in front of the sink location, where a mirror typically would go. We had a choice. Either flip the tub to the other wall, which would create a less ideal relationship between the master bedroom and hallway doors. Or simply live with a mirror on the other wall. Which is why I shave downstairs.
SUTTON PLACE DEMOLITION PLAN - BEFORE
Our clients purchased their apartment in estate condition, which is to say the existing renovation was approximately forty years old. Each level in this apartment house features four units, although in the north wing of the building, the front and rear units are typically combined. Hence the elongated shape of the apartment. The rear unit was originally a live-alone staff quarters, accessible only by service elevator. The front, typically two-bedroom apartment has a private elevator landing.
SUTTON PLACE CONSTRUCTION PLAN - AFTER
Our renovation was proposed for a couple downsizing from a very large duplex family apartment nearby. Frequent entertainers, they sought to accommodate the same style of party in these new surroundings as had always been enjoyed by their guests before. For us, the easiest way to accomplish this was by increasing the size of the foyer. We removed a hall closet from this room, creating a "Palladian" entry with french doors facing an adjacent library. This transparent opening increases the depth of the arrival experience, focusing visitors on the window line facing Sutton Place.
SUTTON PLACE KITCHEN ELEVATIONS
One result of the elongated proportions of this combined apartment is a continuous kitchen elevation. For our clients this created an opportunity for a large entertaining bar off the foyer, as well as a breakfast area towards the original service apartment. The kitchen functions as a series of rooms in sequence rather than one large space, united by materials and cabinetry all custom made.
SUTTON PLACE LIBRARY ELEVATIONS
Convincing our clients to remove their hall closet was initially a challenge. They had always used the hall closet in their previous apartment, located below a connecting stair, to access coats, hats, and dog leashes on a continual basis. Accordingly, we provided scope drawings to feature built-in cabinetry throughout our new design. Cabinetry of this type is a significant budget item. While we knew that our cabinets would lay out differently than those the finish carpenters eventually designed, we were able to sell our idea for storage and accurately describe the renovation budget at once.
SUTTON PLACE MASTER BATHROOM
This bathroom had been accessed off the library. We reoriented it to become a master bath, and removed the tub per our clients' direction. Introducing a large walk-in closet on the far side of the master bedroom made the en-suite master bath remote from the inside of the apartment. This in turn became a full guest and second usable bath.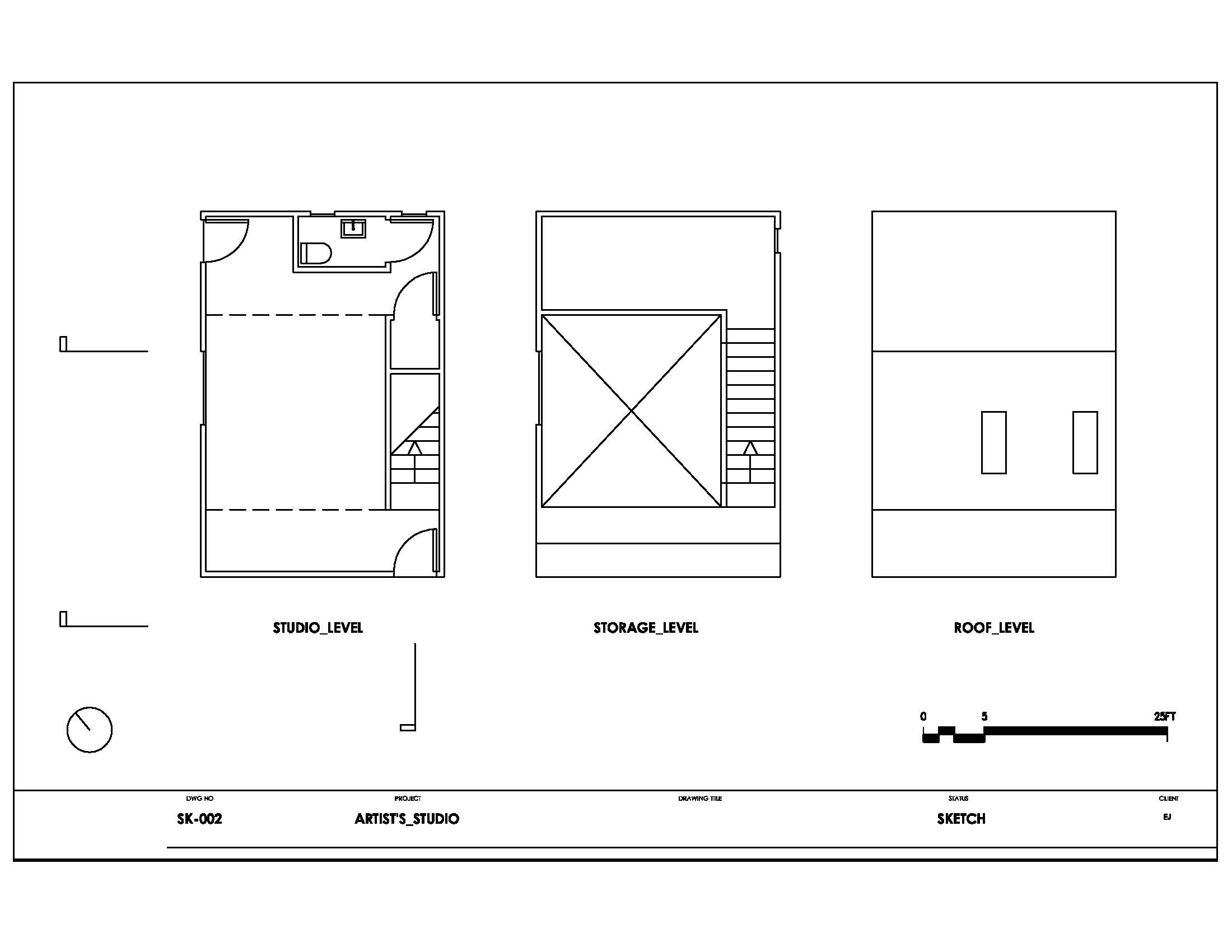 CEDAR STREET PLANS
The result of our intervention would be a two-story space at the quiet rear of our client's property. No tub or shower could be permitted in this "artist's studio," one of the density loopholes in Long Island's East End. Instead an outdoor shower attached to the main house would serve the studio. A small sleeping loft sits at the font of the reconfigured volume.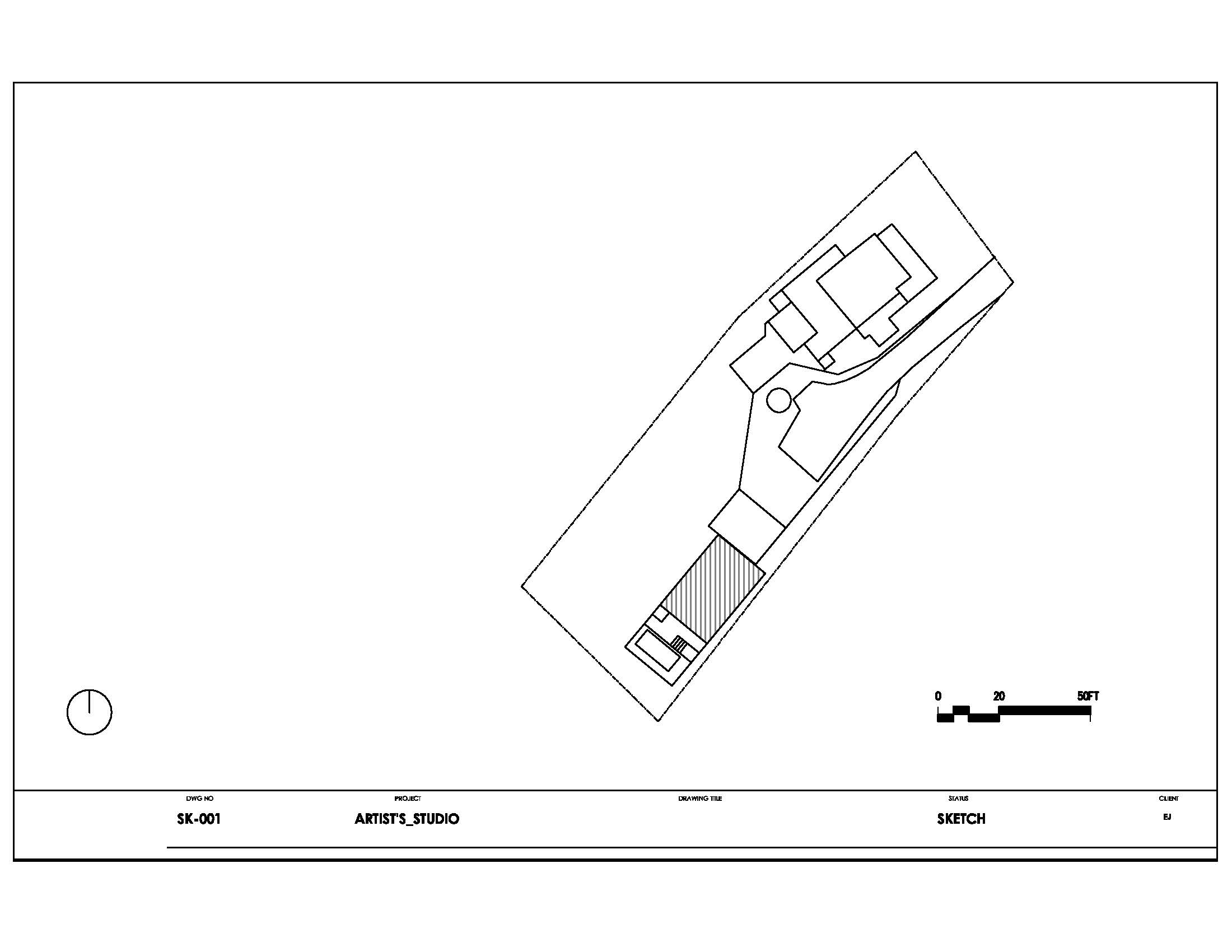 CEDAR STREET SITE PLAN
A deep lot on a back road in East Hampton. Our basic principle was to work within the existing shell of a old barn and add site improvements including a pool.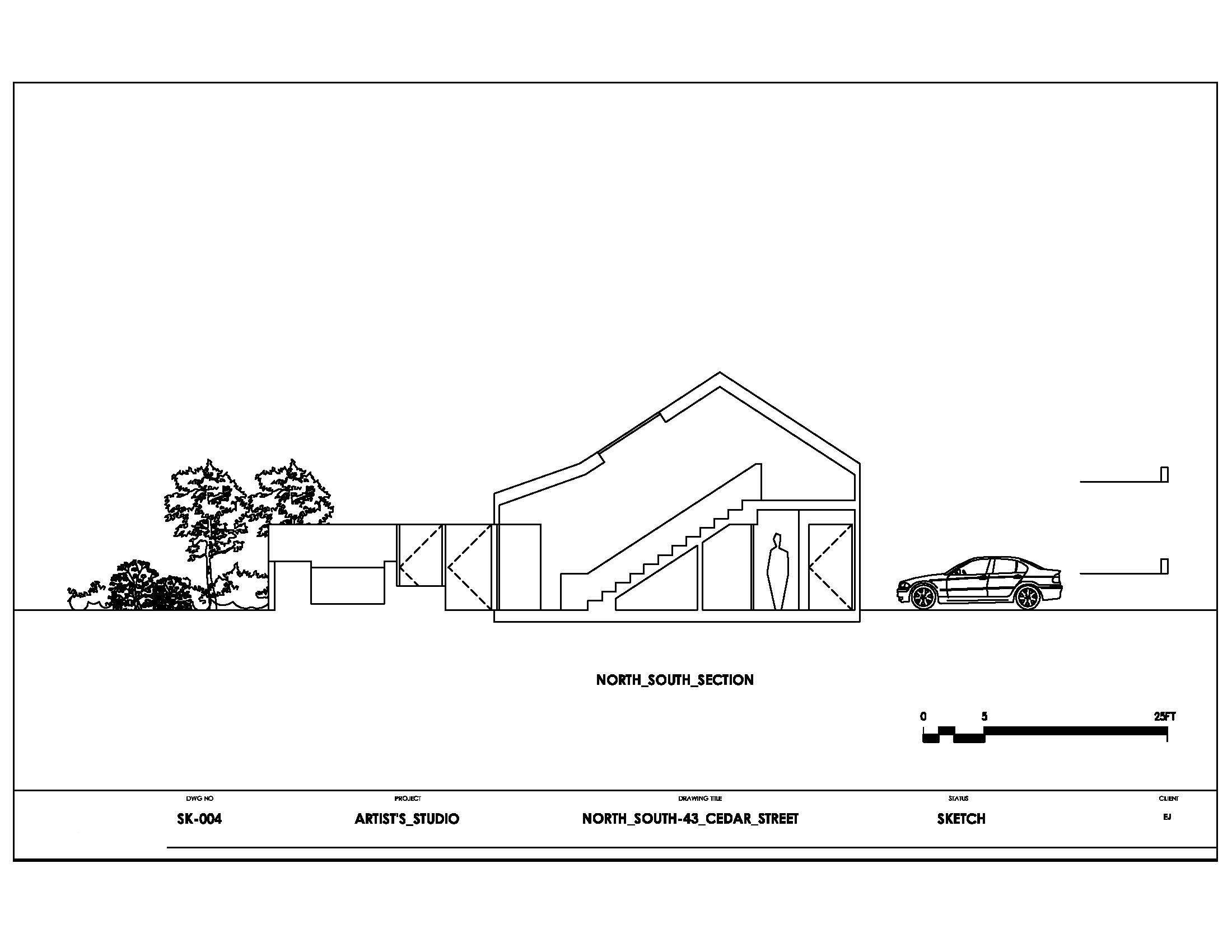 CEDAR STREET BUILDING SECTION
Excavation was thought to be an issue at the rear of our site, so a small above-ground pool was proposed along with stone-clad retaining walls and site fencing shielded by trees.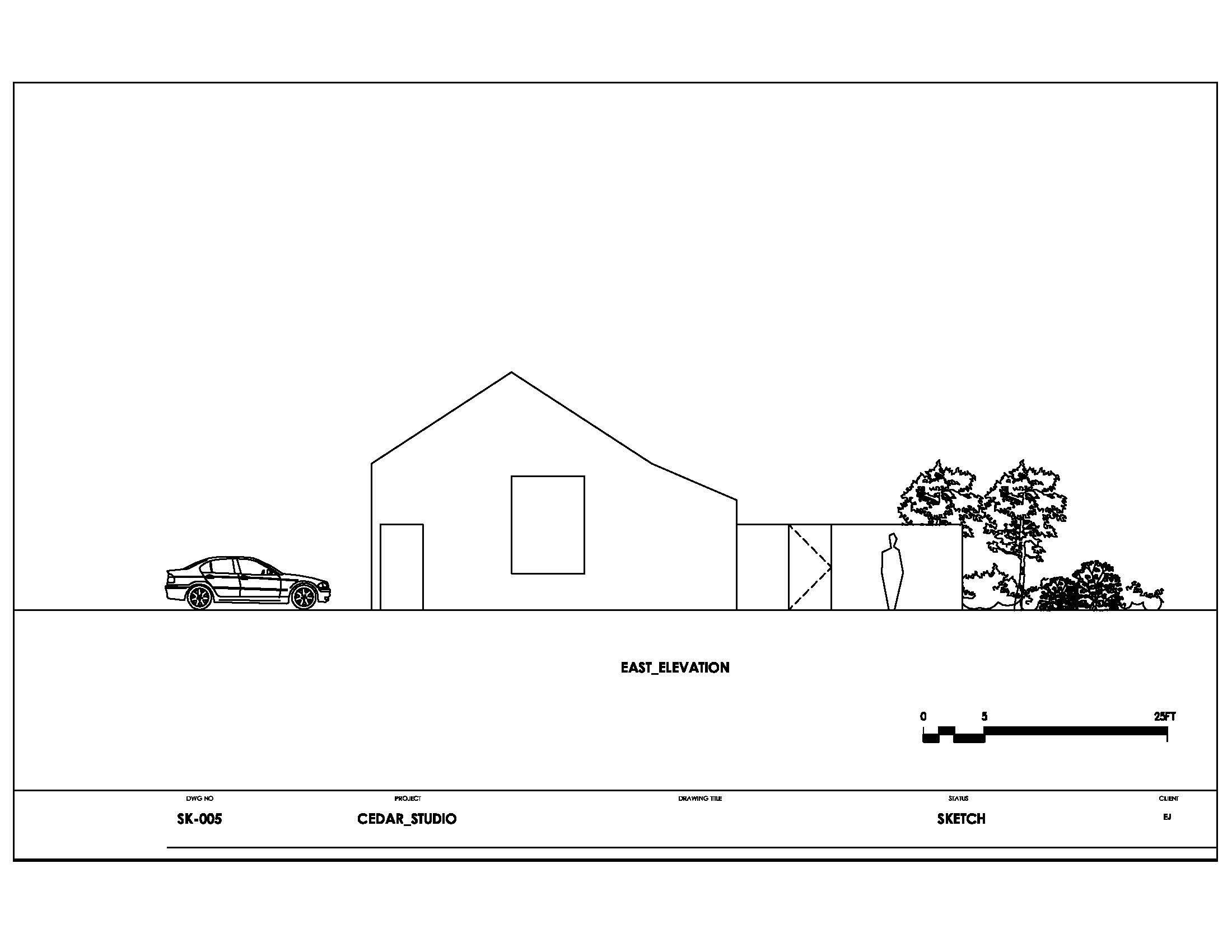 CEDAR STREET SIDE ELEVATION
This side of the barn faces the yard, a well-loved site for swings, tiki-torches and summer croquet.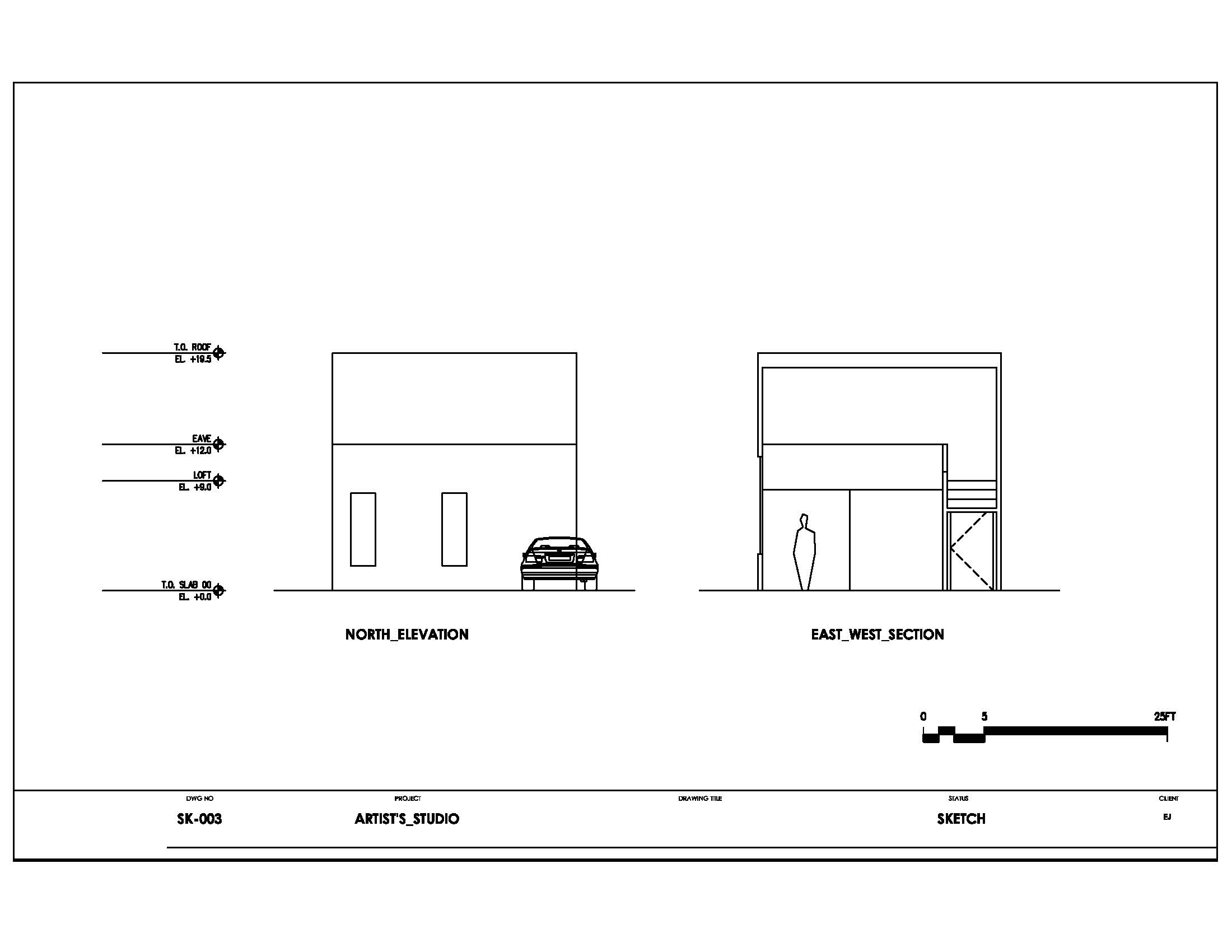 CEDAR STREET FRONT ELEVATION
We imagined this elevation as clad in vertical siding, possibly black, with zero-overhang gutters and muntin-less glazed openings. An aesthetic we're still after today.
HOLLYWOOD FIVE
These plans are for our first project in Los Angeles. Hollywood Five is a circa 1924 bungalow complex on El Centro Avenue, adjacent to Paramount Studios. Plan check and Department of Building Safety in LA are special places. Ones we're expecting to learn more about for many years to come.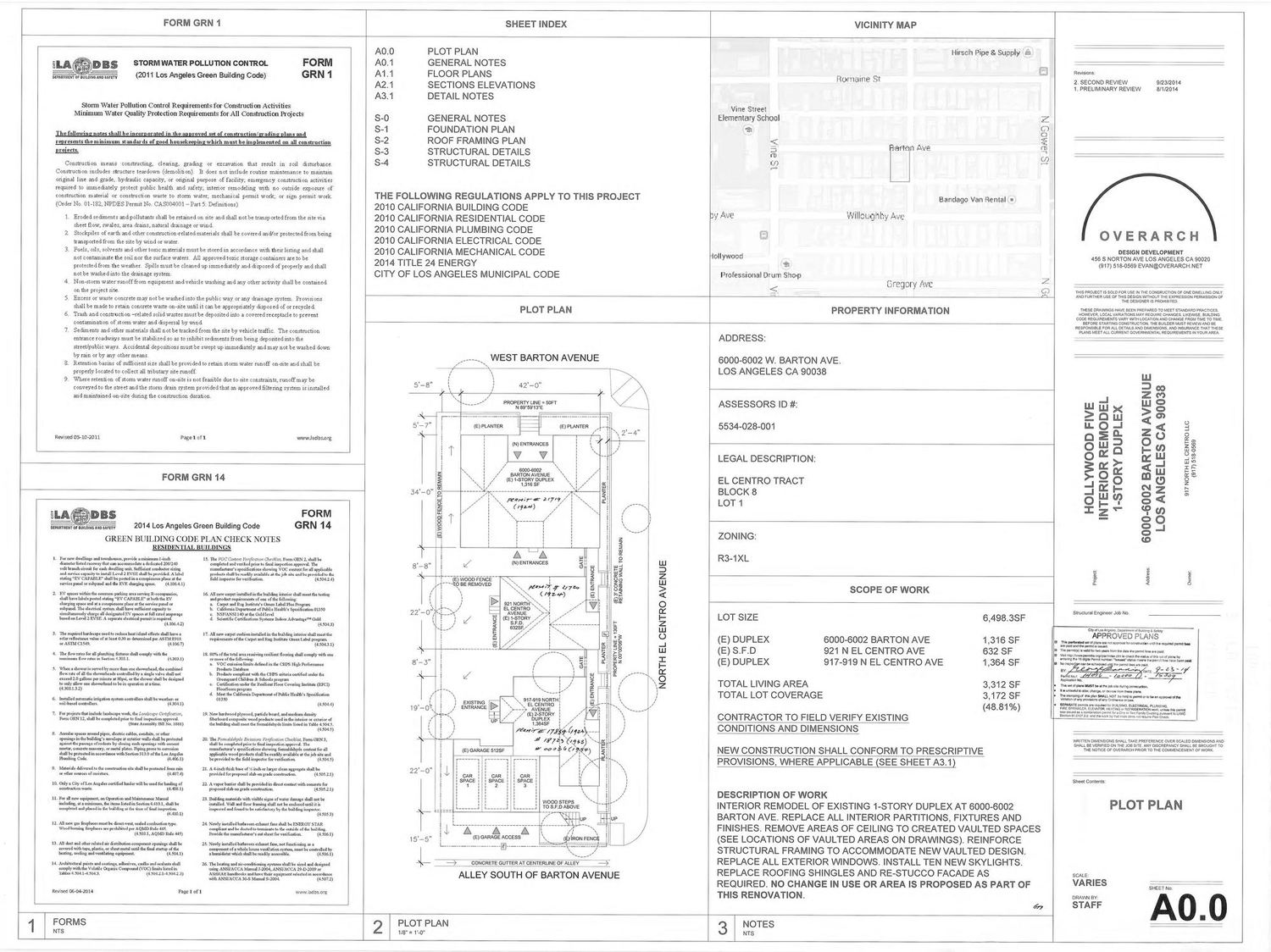 PATTERSON BROOK ROAD
Working in Tuxedo Park is a terrific experience. A little like Newport, or parts of Long Island, or even areas of Los Angeles, the village of Tuxedo Park is a museum for architectural styles. Its heyday was between 1890 and 1930. There are houses by all the great New York firms. Warren and Wetmore, Delano and Aldrich, McKim, Mead and White. Built in 1900 and attached to one of the large, early mansions on the west side of the main lake, our house was originally a garage. A conversion during the last fifty years added living spaces, but failed to insulate, replace windows, or optimally configure the building. The owner we encountered, though friendly and full of affection for the setting, was fed up with the house. Our task was to complete the garage conversion started a half century ago, creating a space for modern living via new equipment and improvements to the plan. We presented a project to the sympathetic village Board of Architectural Review that added no area and made no changes to the exterior appearance of the house. Inside, however, we gained a bedroom and one and a half baths, opening the living room to the kitchen and making our country getaway a perfect place to host family and friends.
SUTTON PLACE
This project was a terrific opportunity for us to extend lessons learned from our prewar renovation at Sutton Place South to a more substantial apartment in a similar building nearby. One aspect of this second project we encountered was a more restrictive co-op Board. Co-op apartment buildings in New York City are their own animals, and presenting architectural information to them is a specific task. If you choose to embark on a renovation like this one, we highly recommend you ask us to help!
CEDAR STREET
Drawings in this section show a proposed renovation for a house in East Hampton. Development at the rear of the property would feature a small artist's studio and a pool built around an existing nineteenth century barn.